Alison Kind B.Sc I.T. (Hons) LSWPP LMIPP was brought up in an environment of a family-run business related to the art of photography.
Her father, Gino Galea, who happens to be a professional photographer himself, had always been a direct influence and inspiration for young Alison. He still recalls his young three -year old daughter crawling in front of a snail, holding a plastic toy camera…pretending to be on assignment!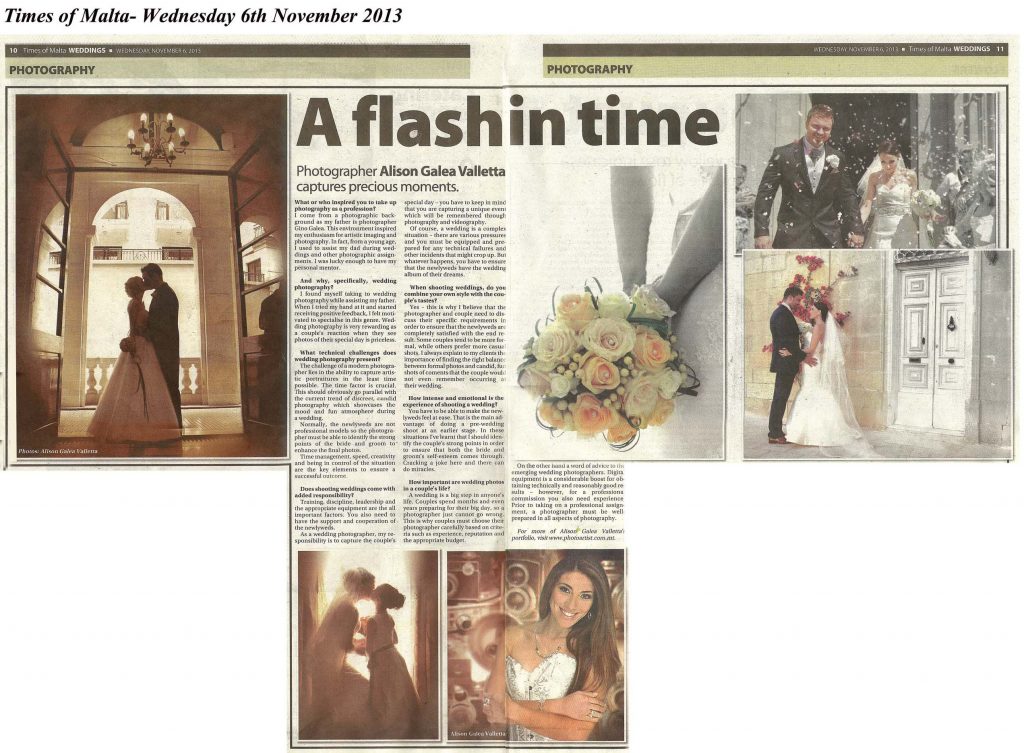 At the age of twelve years old she was already giving a helping hand in lighting techniques during wedding commissions. In the year 2001, Alison joined her dad to an introductory course in Photoshop techniques at the Malta University Services. This was at a critical stage in photography when the digital revolution was taking over from the traditional analogue imaging.
The love for photography had to make way to her academic studies related to her IT degree at the University of Malta. The 'art of imaging' had also been demonstrated through her final-year thesis where she created an innovative "Image Ranking" software which earned her the B.Sc. IT (Hons) degree in December 2009.
Alison handled her first wedding commission to a Dutch couple at the age of eighteen years old. In November 2008 she became the youngest Maltese candidate to earn the prestigious Licentiate of the Society of Wedding and Portrait Photography at the age of 20. This was followed by that of the Malta Institute of Professional Photographers.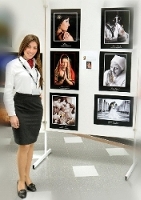 A landmark in Alison's creative career was her participation in the Bank of Valletta Photography Exhibition in April 2010. Alison was also involved in the popular TV fashion program 'Looks' explaining basic tips about the art of photographic technique to the tele-viewers !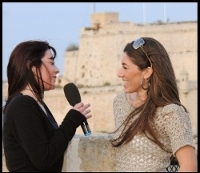 A younger Alison also has an impressive career in modelling and beauty pageants both locally and abroad. She proudly carried the Maltese flag in various overseas activities, starting a highly successful year 2006 through a series of modeling events particularly abroad. In June, that year, she was invited to participate in a fashion show in Sicily. This was followed by London in July when she participated and placed a prestigious first runner-up position for Malta in the Miss Teen Commonwealth, after Miss Bahamas. Then in October that same year she was invited to Kuala Lumpur, Malaysia as a guest in the Malaysian/Indian global pageant. That unforgettable year 2006 closed for Alison by her participation in Mannheim Germany, again representing Malta in the Miss Queen of the World 2006 beauty contest.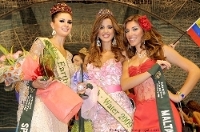 Alison proceeded in representing her country in Alicante, Spain in the 'Best International Female Model' in July 2008. In the following year, in October 2009, Alison formed part of the Maltese winning team in the Miss European 2009 in Folkestone, Kent carrying the title of 'Best team dance' for Malta. Her modeling career culminated in November 2009, when again, she represented Malta in the third world-ranking contest, Miss Earth 2009 Beauty Pageant on Boracay Island, the Philippines, which went to Miss Brazil. During this event, Alison appeared in various photo shoots, environmental activities, fashion shows and was also shortlisted for the Miss Earth TV Promo around Asia on ABS CBN TV network.
In the year 2011 she went on to represent Malta in Singapore and "Miss Mediterranean" Pageant in Cyprus. The year 2012 marked her final local beauty pageant "Miss World Malta" where she placed 2nd runner up.
Alison is a member of the international Association "Society of Wedding and Portrait Photographers".
Her images show her passion for kids photography. Her patience and dedication make her create and capture those spontaneous baby expressions, or that cheeky funny face. She insists that by waiting patiently she always achieves her goals. In fact Alison not only captures those milestones in childhood, but she also starts off the journey with the mother and father-to-be with her Maternal photo shoots.
However Alison's camera doesn't stop at capturing those memorable family photo shoots, but her camera also sees her capturing Graduation Portraits, Holy Communions and Holy Confirmation family shots, Christmas-themed photo shoots and the rest. In fact she also runs their family-run studio "Gino Galea Photo Artist" based in Mosta.
Despite her devotion to their studio in Mosta, Alison also loves moving out of the indoors to capture the beauty of the surroundings. The Maltese landscape offers the most amazing backdrops to her on-location photo shoots.
Having been commissioned to many weddings over the years, Alison is always honored to being able to capture the experiences and the couples' stories forever in their wedding photos. It's simply something she loves doing.
Our Valuable Team Members
OUR STUDIO
Our studio "Gino Galea Photo Artist" is named after Alison's father Gino Galea. It consists of a small team of qualified and well-trained professional photographers who are truly committed towards the client. Our brand name has been associated with the artistic side of photography for decades. We are truly committed to deliver the highest possible standards at reasonable prices .